30 Nov

VA Benefits and the COLA 2022 Increase
Disabled and Retired Veterans to see the largest benefits increase in nearly three decades.
Retired veterans and veterans receiving VA disability compensation will see an increase in their monthly benefits starting in January of 2022. This increase in pay is due to the 2022 Cost of Living Adjustment, or COLA. 
The 2022 COLA Increase 
The 2022 COLA  increase is 5.9%, it is the highest adjustment since 1983. The large increase in the COLA is due to inflation. 
The COLA is determined by the Department of Labor. It is based on the  Consumer Price Index for Urban Wage Earners and Clerical Workers (CPI-W). The CPI-W monitors consumer buying trends and prices of goods. When the CPI-W is higher, it indicates inflation. When there is an increase in inflation, COLA increases to ensure that beneficiaries are receiving enough money to live comfortably. 
By law, the VA must adjust their disability benefits rates to the COLA increase. Military retirement payment rates are not required to be adjusted, but they generally maintain the same increase as disability rates.
VA Benefits Increase for 2022
Retired Veterans
Retirees will have an increase of around $60 for every $1,000 they receive. Retired veterans who began their service on or after Aug. 1, 1986, and chose the Career Status Bonus, will have their COLA increases reduced by 1%. Meaning they should see a monthly increase of around $50 per $1,000 received. 
VA Disability Beneficiaries
Disabled veterans who receive compensation from the VA will see a noticeable increase as well. Those with 10% ratings will see an increase of around $9. Those with 100% ratings will see increases closer to $190. Below is a chart with the increase from 2021 pay rates to 2022,  for all ratings. (No dependants)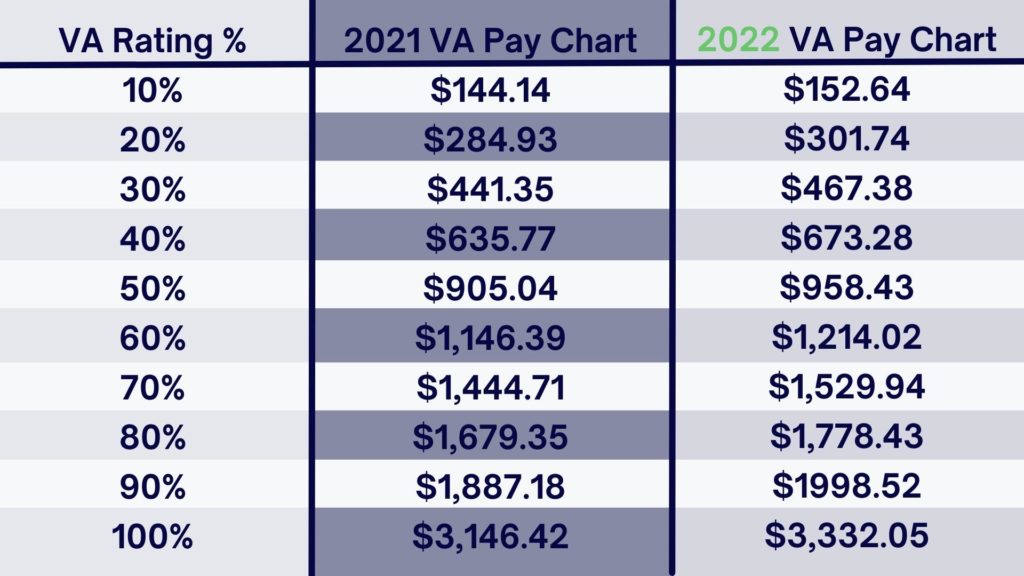 2022 Payment Dates
Payment dates for military benefits are paid on the first business day of each month. If the first business day is a weekend or holiday, benefits will be paid on the last business day of the preceding month. 
Military retirees and disabled veterans have the same schedule for benefits. Below are the payment dates for 2022. 
Receiving VA Benefits or Increasing Your Rating
If you have a service connected injury and do not currently have a VA rating. Or, if you have a VA rating but feel it should be higher, you should contact an attorney. 
Victory Disability is a nationwide law firm that has assisted thousands of veterans with receiving the benefits they have earned and deserve. We offer a free online evaluation that takes less than 60 seconds to complete. If we handle your case, you will not pay any out of pocket fees unless we win.